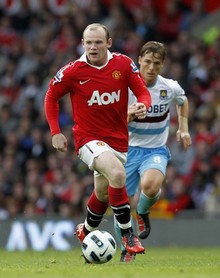 Manchester United striker, Wayne Rooney just rubbished claims that he will be leaving United during the summer as he expects to stay at the club until he hits his thirties. However, when I first heard this some of his famous quotes came to my mind, for example "Once a blue, always a blue". I honestly don't think we can believe anything that comes out of Rooney's mouth…
Don't forget, Rooney also asked to leave Ferguson's Red Army earlier this season and was strongly linked with United's bitterest rivals, Manchester City, who celebrated their 35 years without a trophy on the 28h of February 2011. But when the England international got some sense, he apologized to the club, Sir Alex Ferguson and the fans, he also agreed to extend his contract until 2015.
According to the Telegraph, Wayne Rooney said: "My relationship with Sir Alex has no problems whatsoever.

I'm enjoying my football here and, if I was going to leave in the summer, I wouldn't have signed a new contract when I did. I've signed it and I intend to see it through to the end."
Although, Rooney asked to leave the club in October 2010, he still insists that he'll be playing at Old Trafford for many years to come, and he admitted that he gets "angry" when others question his commitment.
Rooney continued: "Yes, you get angry.

On Sunday I didn't even know it was in a newspaper until I was on the way home from training.

I stopped off at the garage to get petrol and a few people asked me if I was leaving in the summer. I'll be here until I'm in my thirties though, that's for sure."
It has took Rooney a while to find his feet since getting injured against Bayern Munich last year, but last night against Marseille he produced some of his best form of late. However, Wazza hasn't been scoring as frequently as we would all like him too.
"The last two or three weeks is the best I've felt all season," he added.

I feel sharp and, if the manager needs me to get up and down the pitch, then fine.

I haven't played as many games so I feel good, but the more you play, the more consistent you are and better you feel."