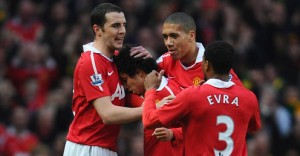 Arsenal's deteriorating season took another blow after Manchester United rubbed salt into Arsene Wenger's wounds, fresh from last week's defeat and Champions League knockout on the hands of Barcelona, with United clinically downing the boys in yellow by two goals to nil in Old Trafford.
This was by no means going to be an easy game, with both teams bubbling straight from one agonizing week, and both looking to re-sparkle their campaign.
Sir Alex's United, looking to bounce back from two defeats on the trot, were without a host of influential midfielders, and looking at that starting line-up before the game, you couldn't help but get on your knees and pray with Chicarito during his famous pre-match ritual. Sporting an unsurprising 4-4-1-1 formation, Fergie's surprise came when a total of 7 natural defenders were announced in the starting line-up. Van Der Sar, two center backs in Smalling and Vidic, Evra and Brown as full backs, a midfield defensive quartet consisting of Gibson, O'Shea and the two twins, Fabio and Rafael, with Rooney partnering Chicarito, leaving Berbatov on the bench. United fans were left smiling though as Antonio Valencia made his long awaited return on United's bench.
Arsene Wenger fielded in his strongest side, with only Arsenal skipper Fabregas missing from the line-up. Sporting a 4-3-2-1 formation, Wenger's line-up had Almunia in goal, a back four of Koscielny, Djourou, Sagna, and Gibbs. Three players controlled the midfield with Denilson, Diaby and Wilshere while Arshavin and Nasri slotted in nicely behind Van Persie.
First Half:
With Chris Foy blowing the whistle for the start of the match, you couldn't help but notice the overwhelmingly loud atmosphere at Old Trafford as usual. As expected from the line-ups, United held back during the first 20 minutes of the half, happy to sit back and move the ball around in the midfield. Arsenal's midfield was looking lively but again, with no apparent attempts on Van Der Sar's goal. Rafael and Fabio were actually looking quite lively in their "shuffled" positions, and that led to United's first attempt on goal. A neat cross from Rooney was headed wide by an incoming Rafael. Not before long though, the twins were involved in what was to be United's opener. Great link up play from the Brazilians Fabio and Rafael, laying the ball to Rooney who lofts it in to Chicarito, whose header is saved by Almunia, only to rebound to Fabio who slots it in neatly. Arsenal had their moments in the first half with Van Persie and Nasri coming in close. Van Persie almost leveled after skipping past Vidic and shooting in the far corner, only to be denied by the first of a string of brilliant saves from United's Van Der Sar. Edwin denied Arsenal another leveler when he went down quickly to clinch Nasri's smart low shot. With a 1-0 half time scoreline, it was pretty apparent this was going to be a manager's game.
Second Half:
The second half continued on from where the first left off, but with one significant change. Almost everyone at Old Trafford were on their feet to welcome back Antonio Valencia as a second half substitute, making his first return after freakishly breaking his leg against Rangers in the Champions League in September. Fergie's men scored their second of the game in the 49th minute after good work from Rafael. The Brazilian makeshift winger rounded off Koscielny and crossed in a low shot to Chicarito, only for the ball to loft up and is headed neatly by Rooney for United's second. It was all pretty much Van Der Sar's game from then as the Dutch keeper brilliantly kept United at bay, saving from the likes of Koscielny, Nasri and Chamakh after coming on. Chris Smalling and Nemanja Vidic were rocks at the back, closing off Arsenal's attempts to attack. The second half was marred by Djourou's injury after taking a knock whilst trying to deny Hernandez. The Swiss international was carried off for proper treatment on what seems like a nasry shoulder injury leaving Arsenal with 10 men. United were denied a third goal from Chicarito after a Rooney cross, only to be saved by Almunia. As Chris Foy blew that final whistle, a thunderous roar could clearly be heard echoing around Old Trafford.
Overview:
Ok, so looking back at the game, it's apparent that Manchester United will sorely miss Edwin Van Der Sar come next season. The Dutch keeper just commands the backline brilliantly and is as safe as cool as they come when needed. Alex Ferguson has one hell of a job bringing in a decent replacement keeper with Kuszczak not entirely proving himself and A.Lindegaard just feeling his way around. Chris Smalling looks absolutely brilliant, and showed in today's game along with Vidic, that United's defense line is safe when Rio is injured. The return of Valencia is also a very welcome one indeed. Overall, United put in a clinical display against The Gunners, playing in with the right amount of prowess, but they'll need to be more ruthless if they're winning anything this season.