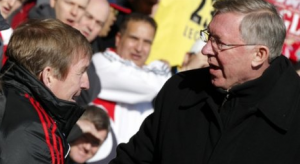 The most significant sporting rivalry in English football went Liverpool's way today as they did all they could in order to prevent Manchester United from making history, being the only club in England to have won 19th league titles.
Dirk Kuyt scored his first hat-trick for the dippers, which was probably the easiest set of goals he has scored throughout his entire career – all goals were simple tap-ins due to dreadful defending from Manchester United, who have cut their goal difference with Arsenal to only three goals.
Our midfield has been our weakest link throughout the season, so it was no surprise to see it being poor again today but with Michael Carrick and Darren Fletcher both renewing their contracts, I must admit, I'm beginning to worry about what the future might hold… However, it wasn't Carrick's worst performance in a red shirt, but it was still shocking and I believe I'm not the only person that believes he isn't good enough to be at the club.
Even though Michael Carrick's performance was poor, it would be foolish of me to put the entire blame on him as I wasn't particularly happy with the majority of Manchester United players today.
The big moment of the first-half came on the 45th minute, when Jamie Carragher got away with a nasty high challenge on Nani, the Manchester United winger who needed a stretcher after the incident. When Torres' ex received a yellow card tempers began to rise and after seeing close replays of the tackle, I think referee Phil Dowd should come out the explain why he didn't send the scouse twat off!
I could go on about penalty claims etc, but Liverpool were the better team and they fully deserved the three points – Manchester United didn't seem to have the hunger in which they did and that really sickens me as we're in a title race! There isn't anything really positive to take from today's game but some our midfielders need to have a serious look at themselves because it's them that might cost us this title…