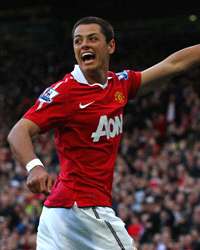 Joakim Soria, a wonderful pitcher for the Kansas City Royals in American Baseball, has pleaded to the press and his fans to abandon his nickname. The nickname is "Mexicutioner". Soria is worried about stereotypes of his country and gun violence.
Well, with the risk of being less than politically correct, if Mexicutioner is available we better adopt it for Javier Hernandez. He may not be leading the goal charts at Old Trafford, but weighing each goal by significance, may make him United's most important hit-man. He has scored in all of United's too-rare away wins in the Premier League this campaign.
Scorers live on confidence. So one can expect Chicharito to be in a very different mindset than his fellow United strikers. Rooney knows he has played for stronger United sides that included Ronaldo. Berbatov is still battling his price tag. Owen trying to save something from his once-legendary status in world football.
But Hernandez is living a dream. His 12 month rise from the obscurity of the Mexican league to the summit of European football has been breathtaking. Including an outstanding World Cup, and regular big-time goals for his country.
Pressure at Manchester United?
Think again. With all due respect to English fans and football media, the Mexican National Team had by far the largest traveling support at last summer's World Cup in South Africa. Four different TV channels set up 24-hour-a-day studios reporting home to a football-crazed nation. The level of football in England is obviously higher, but dealing with the expectations of 112-million Mexicans has more than prepared him for life in the Premier League.
And the Mexicutioner thrives.