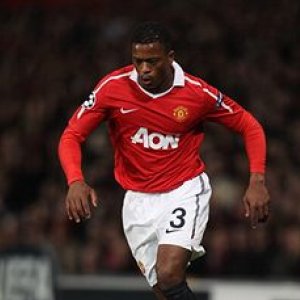 Speculation about Patrice's future is spreading like an uncomfortable dose of French pox. Has he fallen into bed with Mourinho and the Madrid orgy or slapped on a prophylactic and signed a new four-year contract.
Legend has it that on his first day as a United player, Patrice Evra asked Gary Neville for directions to the nearest church. Gaz was flumoxed; he racked his brain, trying to recall whether he had seen one around Carrington. He scraped the recesses of his memory for the location of the one he used to sing 'All Things Bright and Beautiful' in as a kiddy. Giving up, Gary asked why. Paddy simply smiled and said that he needed somewhere where he could "thank God for letting me join the biggest club in the world".
These sorts of daft quotes and declarations of loyalty are often enough to endear a player to even the most cynical of fans. Paddy is better than that, he proves it on the pitch; anyone can talk the talk, but Evra not only walks the walk but swaggers up the line and chases down the line in equal measure.
He stradles the line between confidence and arrogance, like he does the left touchline at Old Trafford, before expertly executing a body-swerve beyond a defender, and skips over into arrogance before delivering a fan- appeasing quote of pure gold:
"United is a completely different world, they take care of the tiniest detail for you. To be honest, I'll be the king of all c**ts if I can't be a success under such conditions."
But he does make a success of it.
Patrice arrived in Manchester along with Nemanja as the Glazers' first signings. He had a nightmare, vomit inducing-debut against Citeh, and with cult hero Heinze playing well in his position seemed destined for the drawer marked "Djemba".
As one of twenty-odd kids, you may have expected little Patrice to fade into the background and happily pick up his paycheck Winston Bogarde style. However, he worked hard, immersed himself into the club's culture, tuned Gabi into a scouser-flirting Judas, and became a foundation of United's most successful era. Plus, he has the added likeability of not being Ashley Cole.
Murmurs of discontent have been heard around Old Trafford this season with regard to Evra's performances, but that's like moaning about a pair of novelty lucky Y-fronts. They have been a game-changer at times when you had no right to score; they put up with little attention, and go for weeks festering under your bed; they bounce back stronger when they have been unexpectedly turned inside out; they have the modesty to deal with shit; and then, when they have the temerity to lose some elasticity, they get discarded for under-performing.
The guy had the worst experience at the World Cup possible; arrived back to Manchester late; has had to contend with four or five different players playing in front of him at various points of the season, and still gives you a seven out of ten performance every game, and I mean every game. Since his arrival at United he has played more often than any other player.
Patrice is still one of our best players, genuinely world-class, consistent, experienced and versed in the art of winning. Signing him up to a new contact is still a major boon, and well, the quotes are just a bonus.