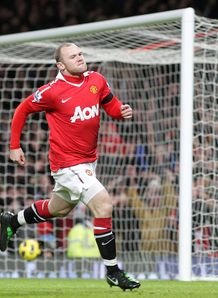 Manchester United got off to a dream start in their Tuesday night fixture against Gérard Houllier's Aston Villa side, with Wayne Rooney scoring on the first minute… What a way to respond to Ferguson's demand for double figures from the striker, who hasn't been on form since getting his act together, earlier this season.
Overall Manchester United produced a good performance, unlike what we've seen all season – nothing but drama with late winners and controversial goals. Manchester United are known for their beautiful attacking style of play, but unfortunately we haven't seen a lot of it this year, some question if it's a lack of quality within the squad that's still unbeaten in the Premier League.
Believe it or not, it was Rooney's first time scoring two in a game for almost 11 months, in front of England manager, Fabio Capello.
Nemanja Vidic also got on the score sheet scoring a stunning goal on the 63rd minute. The center-back produced a wonder goal, the type of goal you wouldn't see scored by many defenders, hitting the ball perfectly into the roof of Bard Friedel's net.
Bard Friedel, the American goalkeeper who has had many brilliant performances against The Reds down the years broke a record, becoming the oldest player to play for The Villans.