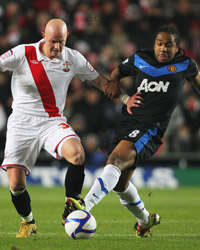 Another game that Manchester United fans won't want to be looking back on, but at least we did enough to progress into the fifth round of the FA Cup.
Southampton started the game with a positive attitude and put all the pressure on Manchester United's back four. It took the Saints 45 minutes to open the scoring, with a stunning strike from Richard Chaplow that gave Manchester United's debutant goalkeeper, Anders Lindegaard, no chance to be honest.
But United came out into the second half making a substitution, taking off a quite Fabio for an experienced 'Wesley Brown', surely this switch was to balance things out a little, with passes going all over the shop in the first half.
Michael Owen who started the game playing very deep scored the equalizer on the 65th minute with a header from Gabriel Obertan's cross. After the comeback against Blackpool Tuesday night, most of us on twitter seen another one coming!
The game started to get interesting and Manchester United scored the winner ten minutes later, when substitute Ryan Giggs picked up a loose pass before playing a through ball into Javier Hernandez who sent the ball home scoring his 11th of the season.
Follow us on twitter – @StrettyNews